2008: Things What I Heard/Things What I Saw
Well look at that! 2008 is all over and now 2009 is underway! Doesn't time fly! And before you know it, well it'll be 2010, then 2015, and you KNOW what 2015 will bring, right?
What with Obama in the White House and all, goodbye oil crises, hello hovering DeLoreans. But as VH1 teaches us, what better time to look back fondly with nostalgia on days past than IMMEDIATELY after they've occurred. So without further ado, here's a look back on some things what I heard and things what I saw in 2008.
Artist of the Year:
Bon Iver
For Emma, Forever Ago
MySpace Transmissions (EP)
Blood Bank (EP)
Live: 1st Unitarian, 7/31 Trocadero, 12/15
Although his debut album was self-released in 2007, it was re-released on Jagjaguwar in '08, and it knocked the ass right outta me. Intimate, solitarily moving and sparse, it reflects exactly the circumstances under which it was recorded: overcoming sickness and nursing the wounds of a band which moved away from him, Justin Vernon secluded himself in a Wisconsin cabin and recorded a low-fi masterpiece. And after the smoke cleared and he became a runaway success, Vernon assembled a touring band and expanded on his sound in what seems like an absolutely perfect way. Still sparse and haunting, the band that is now Bon Iver, as evidenced on the MySpace Transmissions and Blood Bank, seems to perfectly compliment his sound. As anyone who knows me can tell you, I don't go NEAR the 1st Unitarian (not counting the Sanctuary) unless the act is incredible. If you haven't been to the 1st Uni, just imagine being trapped in the Death Star's trash compactor with hundreds of unbathed hipsters during a Sahara heat wave. And THAT'S in the dead of winter. On July 31st, it was easily 120 degrees when Bon Iver took the stage and, incredibly, didn't die. The fact that I stayed until the end says more than I could ever describe with the written word if you know of my intense hatred of all temperatures above 72 degrees. (Check out performances here, here, and here.) As you can see from the video, Bon Iver was relieved at the cool, December Troc show as he reminisced about the fact that he survived to tell the tale. And I don't know if you're too familiar with the Troc, but if you are, you can imagine how bizarre it is that the entire audience was silent and entranced, until we all sang a tune with Bon Iver in unison. Also, they managed to make Outfield's "Your Love"into a liltingly romantic song. Fan-fucking-tastic.
Local Favorite of the Year:
Like Moving Insects: Burn Your Bridges
Runners Up:
Fan of Friends: From the Desk of Fan of Friends
Joshua Marcus: Reverse The Charges
Adam Arcuragi: Soldiers For Feet (EP)
Brown Recluse Sings: Black Sunday
Whales & Cops: Great Bouncing Icebergs (EP)
Tickley Feather: Tickley Feather
As I am repeatedly reminded by the incredible Local Support podcast, Philadelphia has a ridiculous music scene. Often having members intermingled throughout bands (as does LMI, FoF and Joshua Marcus), there's quite a hodgepodge of tones and styles here. And my favorite continues to be Like Moving Insects, even though they have officially dissolved into the ether. And while it's disheartening to think that I may never hear one of their otherworldly live shows again, I was thrilled that they posted their last effort as a free MySpace download. And what a Swansong it is.
80s Flashbacks of the Year:
M83: Saturdays = Youth
Cut Copy: In Ghost Colours
Both of these albums are just really accurate time warps. I mean they really cover all the bases. But while Cut Copy delivers an album that's a bit more modern and danceable, M83 totally commits to a recreation, yet simultaneously manage to not sound dated or kitschy. Perfect sound portraits of John Hughes films, Tangerine Dream, Kate Bush and teenage goth-angst are ably delivered and hard to stop listening to.
Folksy Whatnots of the Year:
Fleet Foxes: Fleet Foxes
Bonnie "Prince" Billy: Lie Down In The Light
The Tallest Man On Earth: Shallow Graves
The Dodos: Visitor
This one's a four-way tie as I immerse myself further and further into the "freak-folk" scene. And while some of these may not be according-to-Hoyle freak-folkers, it all hits the same vein with me. Fleet Foxes blend so many genres and sounds from the previous five decades of American music so well they're hard to pass up. Bonnie "Prince" Billy's last outing is not only a warm, inviting, fun record on its own, but also plays a wonderfully optimistic foil to his bleak, downtrodden I See A Darkness. The Tallest Man On Earth is often touted as the "Swedish Bob Dylan," and doesn't disappoint (this coming from a Dylan Connaisseurus Freak) with his imagist-invoking lyrics and fucking spot-on fingerpicking. And the Dodos… well you just have to hear the Dodos. Bizarro Folk.
Old Old School Release of the Year:
Polk Miller: Polk Miller & His Old South Quartette
I found this little gem at A.K.A. Records, and have been so skeptical as to the "Realness" of certain things due to a certain Master of the Fine Art's interactive artwork that I was convinced its age was a fabrication until extensive research proved otherwise. A great album of crackly, old-tymey goodness that also appears on this list to represent the other gems I unearthed and grew obsessed with in 2008, like Reverend Gary Davis, Lonnie Johnson, Arthur "Big Boy" Crudup, Blind Lemon Jefferson et al.
All Out Rockout of the Year
(Also Best Album Cover of the Year, Best Album Title of the Year)
King Khan & The Shrines: The Supreme Genius of King Khan & The Shrines
Live: Johnny Brenda's, 6/28
OK, so if you can honestly look at that cover, and you can see that album title and not realize why it's the unmitigated number one ayotollah of rock 'n rolla, than you cannot sit down and enjoy a jukebox with a rock-drunken Arod. Don't get me wrong; there are a great deal of greasers who would throw down a smokescreen like that for the pure effect and then, obviously, not be able to deliver. But King Khan… here's a guy, to quote John Madden and Big-Lebowski-Era Sam Elliot, here's a guy who straight up, no holds barred, prime time picks up James Brown's cape from the dusty floor of Rock 'n Roll oblivion, twists his feet on the superior funkthrust of the jammin'-on-the-one count and lets his audience know that all is not lost, and that the heart still beats. The 12-piece band's live show is, frankly, the reason there are still live shows.
WTF? of the Year:
(Also Album on My List that Bob B. Will Most Enjoy Berating)
Doveman: Footloose
Seriously, WTF? I was reading a random blog one day in '08 and discovered that someone had gone and covered the entire fucking Footloose soundtrack. And it wasn't the Bacon Brothers. Talk about a re-creation. This Doveman guy has taken an entire album of throwaway (a word synonymous with) Kenny Loggins material and turned it into a bleak, heart-wrenching anti-powerhouse dedicated to his friend's dead sister. I love when people take certain music and totally make it their own (or in Dylan's case, makes it his own again), and in this case, Doveman has succeeded. So fuck Columbia Records right in their fucking ears for issuing a cease and desist order. Really?! Were sad-bastard emo fans really on the fence about whether to buy a Kenny Loggins vehicle or an album of a weepy guy playing a piano?
Other Random Favorites of the Year:
Broken Social Scene Presents Brendan Canning: Something For All Of Us
The Toronto Uber-collective Broken Social Scene never disappoints me. This time around the project was headed by BSS co-founder and bassist Brendan Canning, and stands as a nice contrast to Kevin Drew's BSS Presents. It's obviously got more pronounced bassline grooves, is a lot less noisy and cluttered (although Drew is a master at clutter), and still throws down that BSS sound that has drawn me in ever since I discovered and became obsessed with the pop masterwork You Forgot It In People, and with it, the indie universe.
Human Highway: Moody Motorcycle
I was drawn to this one because the frontmen are alumni from both Islands and The Unicorns, not to mention Jim Guthrie is the grandson of Woody, but the album is the last thing I would expect. Laid back, filled with great harmonies and truly beachworthy (the beaches that exist in my head that are no hotter than room temperature and contain no sand, that is), it was a favorite in my 2008 rotation.
Mount Eerie, Julie Doiron & Fred Squire: Lost Wisdom
A gorgeously weird lo-fi affair, I really dig the recording quality and the electric guitar that distorts but doesn't overpower throughout the album. And the sad-bastard duet vocal stylings don't disappoint.
TV On The Radio: Dear Science
The kings of funk-groove-meets-social-commentary-meets-experimental-pop-and-hiss (a small genre, indeed) continue their line of fine albums. This is what Prince would sound like if he was worth a damn (yeah, I fucking said it).
The Walkmen: You & Me
This entire album sounds like it was recorded in a submarine, full of glorious deep dark sweating hallway echo and booming ocean floor bass. Only Hamilton Leithauser's wailing brings it to the surface.
Shows To Which I Goes of the Year:
Rock Plaza Central: St. Stephen-in-the-Fields Church (Toronto), 5/1
Along with the three above-mentioned shows, this was an ultimate show of 2008. Whilst tooling around Toronto on my two-months-becomes-one-week walkabout, I got to see one of my favorite area bands in a beautiful setting reminiscent of the 1st Unitarian Sanctuary. I mistook their lead singer as a fellow fan before the show, talked to him about how good RPC is (luckily), and laughed with him about it after the show (I should look at band pics more). Then I met some cool Torontonians and walked through the rain and found a bar and got drunk with them. On a lonely trip, it was the unabashed highlight.
Comedy Albums of the Year:
George Carlin: It's Bad for Ya
Bill Burr: Why Do I Do This?
2008 saw the death of the comedy legend to end all comedy legends (If you disagree, you are simply wrong, and Air Marshall Carlin says "Go Fuck Yourself.") Like many others, I have fond memories of sneaking downstairs and discovering the "Seven Dirty Words" on my parents' turntable. And in 1992, Jammin' in New York began one of the most unbelievably funny AND brilliant career runs in existence. Buy his books. Listen to his albums. Remember him fondly, but don't think he's "up there… smiling down on us." Shit. Piss. Cunt. Fuck. Cocksucker. Motherfucker. Tits.
Flicks of the Year:
Frost/Nixon
Låt den rätte komma in (Let the Right One In)
Runners Up:
The Dark Knight
Burn After Reading
Quarantine
Religulous
Cloverfield
The Strangers
Doubt
Let the Right One In had everything I love in a movie: isolated loneliness perfectly mirrored by a bleak yet gorgeous winter setting, a child vampire, a beautiful tween romance, violence, and Swedish dialogue. Okay, reading that back, I guess I don't usually look for most of those things. Still, this movie was great for all those reasons. You should see it just for the pool scene. You'll thank me. Also, I literally just got back from seeing Frost/Nixon, and, FUCK, that was an incredible film. I have to say it's my favorite Ron Howard film since Parenthood. Some of you who know me also know that I have a somewhat unhealthy obsession with the Cold War and Nixon, and this movie nailed my reasoning for the latter. Richard Nixon is exactly the kind of character Shakespeare wrote about, and if he were alive today, he would have done Nixon. And he would have had Frank Langella play him. He went balls out. I've heard people say they thought Langella was a bad choice, but those people are wrong. Oh Nixon, how I love to love and hate you.
Movies of the Year in Which the Previews Alone Made Me Ill:
Mamma Mia
Repo! The Genetic Opera
Don't Mess with the Zohan
The Love Guru
Movies of the Year in Which Will Smith Once Again Shits Upon an Excellent Premise:
Hancock
Friend of Mine Currently Living in the Oakland Area of the Year: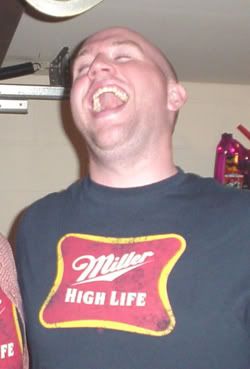 Dan Sanders
Runner Up:
Stanley Kirk Burrell
This is what the people are saying about "2008: Things What I Heard/Things What I Saw"
EAT SHIT HAMMER!

You know, I knew I should have taken a bit more time in compiling my list. About a day or two ago, I realized I didn't put LMI on there at all, and it's basically because I forgot to do so at 4 in the morning. I will correct that oversight soon.

I kind of just skimmed the list for now, but I will devote my undivided attention to it soon. Looks good…!

Why is masturbation a guilty pleasure? Masturbation rocks!